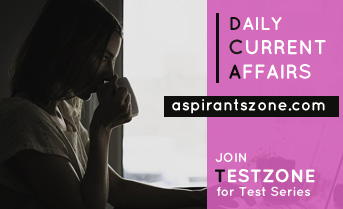 Daily Current Affairs 20 August 2017 for Banking/Insurance/SSC and other related exams.
NATIONAL NEWS
SDMC launches 'terminator train'
A special train called the 'mosquito terminator' was pressed into service by the South Delhi Municipal Corporation (SDMC), in collaboration with the Northern Railway, to spray anti-larval chemicals along the tracks to control mosquito breeding.
To fight vector-borne diseases such as dengue and chikungunya, insecticide will be sprayed using power sprayers, which will be attached to trucks placed on the train.
---
N-E Centre for Ethno Medicinal Research inaugurated in Manipur
A North East Centre for Ethno Medicinal Research has been inaugurated at Hengbung village in Kangpokpi district of Manipur.
---
Mobile app for Karnataka teachers
Bengaluru-based social education start-up Meghshala Trust, supported by Tata Trusts, launched Meghshala ('School on the Cloud') offline mobile app on Google Play Store for the Android platform. The app empowers teachers with the necessary tools and resources to create classroom learning experiences that are engaging and interactive.
---
India, US to start new dialogue to boost stability across Indo-Pacific region
India and United States will start a new two-by-two ministerial dialogue to enhance "peace and stability across the Indo-Pacific region".
The two ministers in the new two-by-two dialogue will be External Affairs Minister Sushma Swaraj and Defence Minister Arun Jaitley from India's end, and their US counterparts Rex Tillerson and James Mattis.
---
---
INTERNATIONAL NEWS
First regional centre of NDB opens in S Africa
The first regional centre of the New Development Bank, set up by India and other BRICS nations, was officially opened in Johannesburg by South African by President Jacob Zuma and the bank's Indian head K V Kamath.
The New Development Bank (NDB), formerly referred to as the BRICS Development Bank, is a multilateral development bank established by the BRICS states (Brazil, Russia, India, China and South Africa) with an initial authorised capital of the bank is USD 100 billion.

The idea for setting up NDB was proposed by India at the 4th BRICS summit in 2012 held in New Delhi.
---
Ethiopia to host global meet on maternal, child health
Ethiopia will host an international conference on maternal and child health on August 24 and 25 under the theme "Overcoming critical obstacles to maternal and child survival".
Initiated jointly by Ethiopia and India, the conference aims to "celebrate" progress to date, share best practices and identify key milestones for achieving the sustainable development goals set out in the Global Strategy for Health of women, children and adolescents (2016-2030).
---
---
FINANCE & ECONOMY
NABARD sanctions Rs 1,350-cr loan to Rajasthan govt
The National Bank of Agriculture and Rural Development (NABARD) has sanctioned a loan assistance of Rs 1,349.55 crore to the Rajasthan government for creation of rural infrastructure in the state under the Rural Infrastructure Development Fund (RIDF).
The sanction includes assistance for construction of two rural drinking water supply projects, strengthening/ rehabilitation of 1,614 rural roads and modernisation of three major irrigation projects.
---
Power Grid inks $500 m loan pact with ADB
State-run power transmission utility Power Grid Corp has announced that it will get a loan of USD 500 million from the Asian Development Bank (ADB) for its various projects.
---
RBI to shortly issue new Rs 50 currency note
RBI will shortly issue new banknotes of Rs 50 denomination in the Mahatma Gandhi (New) Series.
The base colour of the new notes will be fluorescent blue and its dimension will be 66 mm x 135 mm.

It will have a motif of Hampi with Chariot on the reverse, depicting the country's cultural heritage along with the Swachh Bharat logo, year of printing, numeral 50 in devnagiri and the language panel.

The banknote will bear the signature of RBI Governor Dr. Urjit R. Patel on the front side along with the guarantee and promise clause and the RBI emblem.

It will have Mahatma Gandhi's portrait at the Centre and a see through register with enominational numeral 50. Micro letters 'RBI', 'भारत', 'INDIA' and '50' and Ashoka Pillar emblem on the right will also feature on the front side.

The security thread will have inscriptions 'भारत' and RBI. The number panel will have numerals growing from small to big on the top left side and bottom right side.

RBI has clarified that all banknotes in 50 rupee denomination issued in the earlier series will continue to be legal tender.
---
---
SCIENCE & TECHNOLOGY
Indian researchers discover two new species of earthworm
A team of Indian researchers has discovered two new primitive species of earthworm in the Western Ghats mountain ranges in Kerala.
The two new species, named Drawida polydiverticulata and Drawida thomasi, have been discovered in the Western Ghats mountain ranges in Kerala by scientists Dr. S. Prasanth Narayanan, Mr. S. Sathrumithra, Dr. G. Christopher, all affiliated with Mahatma Gandhi University and Dr. J.M. Julka of the Shoolini University, India.
---
UK scientists create world's smallest surgical robot
British scientists have developed the worlds smallest surgical robot which could transform daily operations for tens of thousands of patients.
The robot, called Versius, mimics the human arm and can be used to carry out a wide range of laparoscopic procedures including hernia repairs, colorectal operations, and prostate and ear, nose and throat surgery, in which a series of small incisions are made to circumvent the need for traditional open surgery.
---
NASA launches satellite to help astronauts talk to Earth
National Aeronautics and Space Administration (NASA) has launched the latest in a series of satellites aimed at ensuring astronauts at the International Space Station can communicate with Earth.
The satellite will "support critical space communication into the mid-2020s."
---
NASA successfully launches Tracking and Data Relay Satellite-M
The NASA has successfully launched Tracking and Data Relay Satellite-M (TDRS-M) into orbit. It was launched aboard a United Launch Alliance (ULA) Atlas V rocket.
TDRS-M is third and final satellite in a series of the Tracking and Data Relay Satellite System (TDRSS), next generation communications satellites.
---
---
AWARDS & RECOGNITIONS
CM K Chandrasekhar Rao gets Global Agriculture leadership award
The Indian Council of Food and Agriculture (ICFA) announced the Global Agriculture Leadership Award to Telangana chief minister K Chandrasekhar Rao.
The award was conferred on the Telangana CM for his transformational role in bringing new systems and improving farm sector.
---
Udaipur's Kalpit Veerwal In Limca Book For 100 Per Cent In JEE-Mains
The first-ever student to have scored 100 per cent in the prestigious Joint Entrance Examination- Mains, Udaipur boy Kalpit Veerwal has made it to the Limca Book of Records for his feat.
Veerwal scored 360 out of 360 in the JEE-Mains this year.

His record of the perfect score will feature under the "Education Achievements" category of the 2018 edition
---
12-year-old Indian-origin TV star crowned Child Genius in UK
Rahul Doshi, 12-year-old Indian-origin boy has been crowned as the UK's 'Child Genius' in a popular television quiz competition, days after he became an overnight sensation after answering all questions correctly.
---
---
BOOK LAUNCH
Book on bodybuilder's fight overcoming HIV released
Book 'I am HIV positive, so what?' on the career of Manipur bodybuilder, K Pradipkumar Singh, known for his personal struggle against HIV AIDS, has been released.
Singh was diagnosed as HIV positive in 2000 and had come out publicly about his condition in 2007.

Notably, Singh won the Mr South Asia title and bagged a bronze in the Mr World contest in 2012.

The book is written by New Delhi-based journalist Jayanta Kalita.
---
---
OBITUARY
Comedian-actor Dick Gregory dies at 84
Renowned American stand-up comedian, actor and civil rights activist Dick Gregory has passed away.
---
---