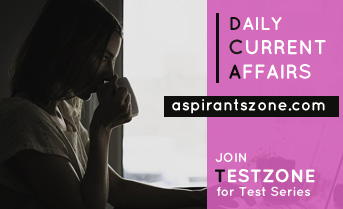 Daily Current Affairs 21 August 2017 for Banking/Insurance/SSC and other related exams.
NATIONAL NEWS
Samsung India partners with K'taka Government to donate stationery
Samsung India has collaborated with the Government of Karnataka for a notebook donation drive to extend its support to students from government schools across Bengaluru, Kolar and Mulbaghal districts in the state.
A team of volunteers in Bengaluru from Samsung Research and Development Institute visited over 450 schools and distributed 160,000 notebooks and 38,500 pens to over 30,000 students in two days.
---
24th Congress of International Union of Crystallography begins
The 24th Congress and General Assembly of the International Union of Crystallography (IUCr) 2017 began in Hyderabad, Telangana on 21st August 2017.
Crystallography is the study of crystals such as sugar, ice and grains of common salt.
---
Shri Piyush Goyal addresses the 8th World Renewable Energy Technology Congress
Union Minister of State (IC) for Power, Coal, Renewable Energy and Mines, Shri Piyush Goyal, addressed a distinguished gathering of delegates attending the 3-day 8th World Renewable Energy Technology Congress in Delhi.
---
India commits $500,000 to International Vaccine Institute for research
India has entered into an agreement with International Vaccine Institute (IVI) in South Korea under which it has committed an annual contribution of $5,00,000 for vaccine research and development.
IVI is an international non-profit organisation that was founded on the belief that the health of children in developing countries can be dramatically improved by the use of new and improved vaccines.
---
Indian Navy's second LCU Mark IV L52 ship commissioned at Port Blair
Indian Navy's second LCU (landing craft utility) Mark IV L52 ship was commissioned at Port Blair, capital of Andaman and Nicobar Islands. LCU L52 is the second LCU Mk-IV class ship to be inducted into the Indian Navy.
---
---
INTERNATIONAL NEWS
Microsoft acquires cycle computing for users to accelerate to cloud
Microsoft has announced the acquisition of Cycle Computing, which will help make it easier for Azure customers to use High Performance Computing (HPC) and other Big Computing capabilities in the cloud and help them accelerate their movement to the cloud.
Cycle Computing headquartered in US is a company that provides software for orchestrating computing and storage resources in cloud environments.
---
China to run world's fastest bullet train from Sep 21
China will run the world's fastest bullet train — the Fuxing — between Beijing and Shanghai at 350 kms per hour, covering the 1,250-km-long distance (equal to that between Jammu to Bhopal) in just 4.5 hours from September 21.
---
China to start world's 1st meltdown-proof nuclear plant
China is going to launch the world's first nuclear power plant, the Sanmen Nuclear Power Station, that is immune to meltdown. The US and China jointly invested over ₹38,000 crore for building the reactor used in the plant.
---
---
ECONOMY
At 27%, SBI tops share of wilful default to PSBs
According to the Finance Ministry Data, the country's largest lender, SBI, accounts for over 27 per cent of the total amount owed to public sector banks by wilful defaulters.
As many as 1,762 wilful defaulters owed SBI ₹25,104 crore as on March 31.

Punjab National Bank (PNB) is next on the list with 1,120 wilful defaulters having outstanding non-performing assets (NPAs) of ₹12,278 crore.
---
Climate change costs India $10 billion every year: Government
 According to The Economic survey, extreme weather events are costing India $9-10 billion annually and climate change is projected to impact agricultural productivity with increasing severity from 2020 to the end of the century.
---
India has most number of TB deaths among children: study
India has the most number of child deaths due to tuberculosis, according to a Lancet study which found that over 55,000 children died from the disease in the country in 2015.
The Lancet is a weekly peer-reviewed general medical journal. It is one of the world's oldest and best known general medical journals.
---
---
SPORTS
Oinam Bembem Devi Becomes Second Indian Female Footballer To Win The Arjuna Award
Oinam Bembem Devi has carried the mantle of Indian women's football for the past two decades. Now after over 20 years of contribution to the sport, Oinam Bembem Devi has become the second Indian woman footballer to win the Arjuna Award. She is famously referred to as the Durga of Indian Football.
---
Australia winner of 2017 FIBA Asia Cup
Australia has been crowned the FIBA Asia Cup 2017 basketball champions following a 79-56 victory over Iran in the final. The championship was held in Beirut, Lebanon.
---
---
APPOINTMENTS & RESIGNS
Panneerselvam sworn in as TN Deputy Chief Minister
AIADMK leader and former Tamil Nadu Chief Minister O.Panneerselvam has been sworn in as Deputy Chief Minister under the merged All India Anna Dravida Munnetra Kazhagam (AIADMK) government in the state, in presence of Governor CV Rao.
He is also given the additional charge of Finance and Housing Ministry.
---
---
OBITUARY
Additional Secretary to Narasimha Rao, PVRK Prasad, passes away
Senior Retired IAS Officer, PVRK Prasad has passed away. He served as information advisor to former Prime Minister P V Narasimha Rao. As an IAS Officer of Andhra Pradesh Cadre, he served in various capacities in both Central and state governments.
---
Comedy legend Jerry Lewis dies at 91
American actor and comic legend Jerry Lewis has passed away.
---
---