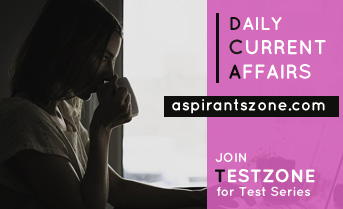 Daily Current Affairs 23 August 2017 for Banking/Insurance/SSC and other related exams.
NATIONAL NEWS
Cabinet approves India-Nepal pact on drug matters
The Cabinet, chaired by the Prime Minister Narendra Modi, gave its approval for signing of an MoU between India and Nepal on Drug Demand Reduction and Prevention of Illicit Trafficking in Narcotic Drugs and Psychotropic Substances and precursor chemicals, and related matters.
---
Cabinet approves MoU to be signed between India & Nepal for bridge construction at Indo-Nepal border
The Cabinet has approved a Memorandum of Understanding to be signed between India and Nepal for laying down implementation arrangement on Cost sharing, Schedules and Safeguard issues for starting construction of a new Bridge over Mechi River at Indo-Nepal border.
The estimated cost of construction of the bridge is 158.65 crore rupees, which would be funded by Government of India through ADB loan.
---
Home Minister Rajnath Singh launches digital police portal
A digital police portal under the CCTNS project, which aims to create a national database of crimes and criminals, has been launched by Home Minister Rajnath Singh.
Singh said the digital police portal will provide the citizen, facility for online complaint registration and request for antecedent verification.
---
Closure of loss-making Bharat Wagon approved
The Cabinet Committee on Economic Affairs (CCEA) has approved the closure of loss-making Bharat Wagon and Engineering Company (BWEL), a Central Public Sector Enterprise under the Ministry of Railways.
---
Cabinet approves renaming SAMPADA scheme
The cabinet has approved the renaming of the new central sector scheme SAMPADA (Scheme for Agro-Marine Processing and Development of Agro-Processing Clusters) as Pradhan Mantri Kisan Sampada Yojana (PMKSY).
The PMKSY seeks to supplement agriculture, modernise processing and decrease agri-waste, It is for the period of 2016-20, co-terminous with the 14th Finance Commission cycle.
---
Cabinet gives in-principle approval for Public Sector Banks to amalgamate through an Alternative Mechanism (AM)
The Union Cabinet chaired by the Prime Minister Shri Narendra Modi has given in-principle approval for Public Sector Banks to amalgamate through an Alternative Mechanism (AM). The Alternative Mechanism will be decided by PM Modi.
The decision is expected to facilitate the creation of strong and competitive banks in public sector space to meet the credit needs of a growing economy, absorb shocks and have the capacity to raise resources without depending unduly on the state exchequer.
---
Campaign for clean and healthy society launched
Union Minister for Social Justice and Empowerment Tanwar Chand Gehlot inaugurated a nine-day campaign on 'Clean Society-Healthy Society'.
This campaign which will be carried out by the Brahma Kumaris organization in different areas of Delhi, Noida, Gurugram and Faridabad will sensitize the public on inner and outer cleanliness, holistic health and hygiene, de-addiction, social empowerment, moral values and character building.
---
Karnataka Government launches clouding seeding Project Varshadhari
Karnataka Government launched clouding seeding Project Varshadhari in Bengaluru under which an aircraft will spray chemicals to induce rainfall.
It aims to condense small water particles by clouds (size less than 10 microns) to droplets of 50 microns, which can constitute rains.

Cloud seeding (also known as weather modification technique) is an artificial way to induce moisture in the clouds so as to cause a rainfall.
---
Odisha Govt, FICCI join hands to promote culture, tourism
In a bid to boost Odisha's culture and tourism, the Government of Odisha, in collaboration with the Federation of Indian Chambers of Commerce & Industry (FICCI), will organise the first ever Odisha Travel Bazaar in October in Bhubaneshwar.
---
Andhra CM lauds anti-corruption helpline no. 1100
The Andhra Pradesh Government earlier in the year had introduced the helpline number 1100 to tackle corruption in the state. He has lauded the state government for introducing the helpline service in a bid to curb corruption and said the 'first of its kind' initiative is performing effectively.
---
Sushma Swaraj to inaugurate first Videsh Bhavan in Mumbai
External Affairs Minister Sushma Swaraj will inaugurate the country's first Videsh Bhavan, assimilating all Regional Passport Offices under one roof, at the Bandra Kurla Complex (BKC) in Mumbai.
The pilot project of the Videsh Bhavan of Mumbai is part of the Centre's policy to bring together different offices of the MEA under a single roof and work closely with states as more and more Indians are going abroad for employment, education, business and tourism.
---
National Sports Museum to be established in New Delhi
The Ministry of Youth Affairs and Sports is going to establish National Sports Museum, first of its kind, at Jawaharlal Nehru Stadium, New Delhi.
The Museum will showcase the India's achievements in sports and also focus on the traditional sports within the country. The aim of the Museum is to popularise the sports as a way of life within the country.

It will display achievements of the Indian greats in sports and also act as an educational hub and offer opportunity for the young to delve into some sporting activity.
---
India's rights for deep sea mining extended by 5 years
India's exclusive rights to explore polymetallic nodules from seabed in Central Indian Ocean Basin (CIOB) have been extended by five years. This was approved unanimously in the 23rd session of International Seabed Authority (ISA) concluded at Kingston, Jamaica.
These rights are over 75,000 sq. km of area in international waters allocated by ISA for developmental activities for polymetallic nodules.
---
---
INTERNATIONAL NEWS
Microsoft Accelerator announces 11th start-up cohort
Tech giant Microsoft has announced its 11th cohort of 14 late-stage start-ups for its 'Accelerator' programme to help boost their enterprise readiness and go-to-market (GTM) activities.
The 14 start-ups in the cohort are Clonect, Ace Turtle, VideoKen, Kata.ai, Simplilearn, Udaan, Docswallet, MegDap, Liv.ai, KrypC, i-exceed, GIEOM, Hotelogix and MintM.
---
---
BUSINESS & ECONOMY
HDFC Ergo completes L&T GI merger
HDFC Ergo General Insurance has completed the merger with L&T General Insurance, marking the first amalgamation in the country's non-life insurance sector.
---
OBC creamy layer bar raised, panel to work out sub-categorisation
The government has raised the creamy layer ceiling by Rs 2 lakh and announced setting up of a commission to work out sub-categorisation within Other Backward Classes (OBCs) for a "more equitable distribution of reservation benefits". The chairperson of the Commission is yet to be appointed.
Union Finance Minister Arun Jaitley said that OBC families earning up to Rs 8 lakh per annum will not be considered in the creamy layer. Earlier, this ceiling was Rs 6 lakh per annum.
---
FSSAI-Yes Bank to work for preserving India's food heritage
Looking to preserve India's rich food heritage, regulator FSSAI is creating an archive of recipes and plans to take other initiatives such as setting up hubs and organising food festivals.
FSSAI, along with Yes Bank's Yes Global Institute, held a conference with various stakeholders, including government bodies, industry, celebrity chefs, food historians, columnists and bloggers in this regard.
Also, a dedicated online portal 'FOODCAST' will be designed to disseminate these recipes and also guide people on which food to eat and when.
---
---
SCIENCE
N.bhupathi: New frog species with pig face discovered
A group of Indian scientists has recently discovered a new frog species named Nasikabatrachus bhupathi, which has a face of a pig. The frog has been named after the Indian herpetologist S. Bhupathy, who died in 2014.
---
---
SPORTS
Wayne Rooney retires from international football
England's all-time leading goalscorer Wayne Rooney has announced his retirement from international football, effective immediately.
---
---
APPOINTMENTS & RESIGNS
Air India chief Ashwani Lohani to head Railway Board
Air India chief Ashwani Lohani has been named Chairman of the Railway Board to succeed A.K. Mittal, who stepped down in the wake of repeated train accidents.
---
AWARDS & RECOGNITIONS
Modi, Priyanka feature in LinkedIn Power Profiles List of 2017
Prime Minister Narendra Modi and actress Priyanka Chopra have found a spot in the LinkedIn Power Profiles List of 2017.
Professional networking giant LinkedIn announced its fourth edition of Power Profiles, a list of the most viewed LinkedIn profiles of professionals in India.

Modi with his 2.2 million followers on the platform, is a third time return to the list.

Other influencers are Kailash Satyarthi, Founder of Kailash Satyarthi Children's Foundation, Congress MP Shashi Tharoor, Global Chief People Officer and Priyanka, who are new entries in the list.
---
Morgan Freeman to receive SAG Lifetime Achievement Award
Legendary Hollywood actor Morgan Freeman is all set to receive Screen Actors Guild Life Achievement Award. He will be honored during the 24th annual Screen Actors Guild Awards which is set to air on January 21, 2018.
This award is the Guild's highest honour, an actor receives who fosters "finest ideals of the acting profession."
---
---
OBITUARY
Ex-Manipur chief minister Rishang Keishing passes away at 98
Former Manipur chief minister and Rajya Sabha MP Rishang Keishing has passed away.
---
---